Ingredients

1 Tablespoon avocado oil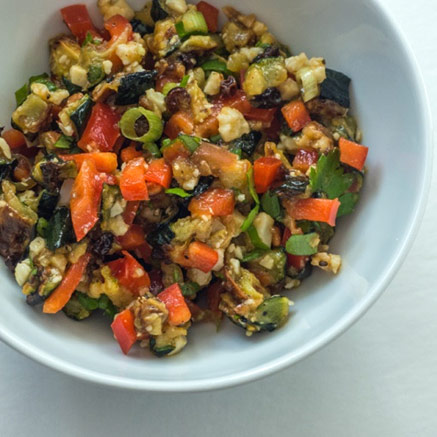 2 large zucchini
1 small yellow squash
3 carrots, 4 ounces
1 small red or orange bell pepper
1 cup shredded purple cabbage
2 eggs
Sauce:
1 Tablespoon coconut sugar
2 Tablespoons coconut aminos
2-3 Teaspoons sriracha
Toppings:
1/8 cup shredded leeks or 3 green onions thinly sliced
1/2 cup toasted cashews
1/4 cup chopped cilantro
Instructions
Cut both ends off the zucchini, carrots, and yellow squash and spiralizer.
Cut out the core and remove the seeds from the bell pepper and spiralize it as well.
Mix together all the ingredients for the sauce and set aside.
Prepare the toppings and set them aside until the end of the cooking time.
Preheat a very large skillet (15″ or bigger) over high heat. When the skillet is hot, add the avocado oil, zucchini and yellow squash noodles, carrots, bell pepper, cabbage, and the eggs. It's easiest to stir fry veggie noodles with a pair of tongs.
Stir fry for 2-3 minutes or until the egg has formed bits around the noodles and they have just softened.
Add the sauce and toppings. Stir fry for just a minute tossing to combine and serve immediately.