Michelle Secrest Licensed Massage Therapist in Gainesville, Whitesboro, Sanger and  Surrounding Areas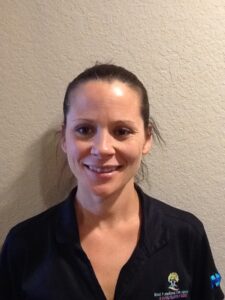 My name is Michelle Secrest, LMT.  I was born and raised in Lindsay, Texas.  I went to Lindsay ISD from kindergarten to Senor year.  After high school I attended NCTC and received my Associates Degree in Art.  After NCTC I attended TWU for a brief moment to pursue a degree in Accounting.  I shortly realized that was not the path that was going to make me happy.  I changed my career path in hopes of helping people physically.  My sister, being OT, I saw first-hand how the power of positivity and hands can help change a person's life completely.  I talked to many massage therapists and realized that this was the way I could help others.  The massage therapy world is open to many opportunities to do this.  I attended Academy of Healing Arts and studied under Elanor Scott, RMT.  I specialize in Myofascial Release, the manual pressure and stretching of the fascia (connective tissue).  I have a Spa Certification and experience trigger point. 
I have 3 beautiful children, Trinity-16, Michael-8, and Chase-7.  They are into every sport and it has made me get into the Sports Massage.  They come to me, get on the table, and ask for massage and it seems to help them feel better. 
Other than massage therapy I have waited tables at the Smokehouse in Lindsay Texas since 1992.  I love doing what I do.   Both are very humbling jobs with the best rewards.  Making people feel better and smile a little bit brighter.